"Our goal is to provide an attractive and engaging format in which to set a clear and uncompromising gospel presentation"
Barry Sprott (Founder)
Evangelistic literature that people are likely to read.
TELit@OPAL design, produce and publish evangelistic leaflets in a wide range of titles, suitable for all ages, interests and occasions.
Select from one of our folder themes below:
Featured folders
Please click on the folder to order and add the quantity you would like.
TELit Now
Welcome to the new TELit Website. Click on a cover picture to view the content of the folder or order. Do take time to browse through the website, and let us know what you think.
Happy New year to you and trust that you will know the blessing of the Lord in 2019. For 'the blessing of the LORD makes rich, and he adds no sorrow with it.' (Proverbs 10:22)
New folders for door to door visitation, and coffee shops or coffee mornings.
Would you add a link to the TELit website on your church website? It would help when others are searching for good evangelistic literature.
Download our latest catalogue by clicking on the image below: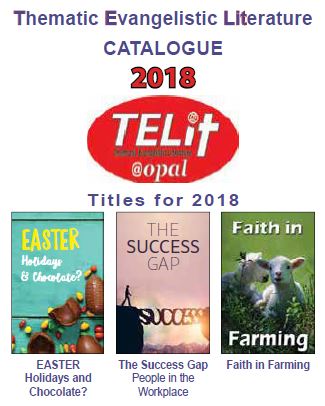 TELit Tips
Holidays and Hotels
UK holiday resorts can offer special opportunities over the summer months and many visitors are open to the gospel when away from their home environment. Surely nothing can thrill our hearts more than a visitor returning home with not only souvenirs and memories but also a personal relationship with the living God. Do I live in a popular visitor area? Could I organise a distribution of folders to tourists? Could I ask hotels in my town to display folders in rooms or reception areas?