"Our goal is to provide an attractive and engaging format in which to set a clear and uncompromising gospel presentation"
Barry Sprott (Founder)
Evangelistic literature that people are likely to read. Tracts Christian
TELit design, produce and publish evangelistic leaflets in a wide range of titles. They are suitable for all ages, interests and occasions. Each one starts from where people are and introduces the gospel from a perspective that they already have an interest in. Use that interest point to pick a title for the people you know.
Select from the featured folders or pick a folder theme below:
Featured folders
Please click on the folder to order and add the quantity you would like.
TELit No

w
When  you can't get people in to your church why not use a leaflet now to send the gospel right in to their houses?
Churches have found that by putting the online service details as part of their overprint on the leaflets, more people watch the services. Others are using local 'leaflet distributors' to distribute the leaflets to help minimise person to person contacts. 
Click on this text to watch a 2 minute video to see why TELit folders are read by so many of the people who get them.
Your contact details can be either a typewritten or a handwritten message on the folders.The same overprinting charge is applicable to both options. Put your hand written message on a white unfolded piece of paper in a good fine felt tip or broad pen. Keep the printed area to 80mm by 80mm for seasonal titles.
Do you work with immigrants? Contact the office to find out what literature is available for your language group.
Would you add a link to the TELit website on your church website? It would help when others are searching for good evangelistic literature.
Now you can follow TELit on facebook. There are stories of how the leaflets are being used for your prayer and suggestions you can use in your outreach.
Download our latest catalogue by clicking on the image below: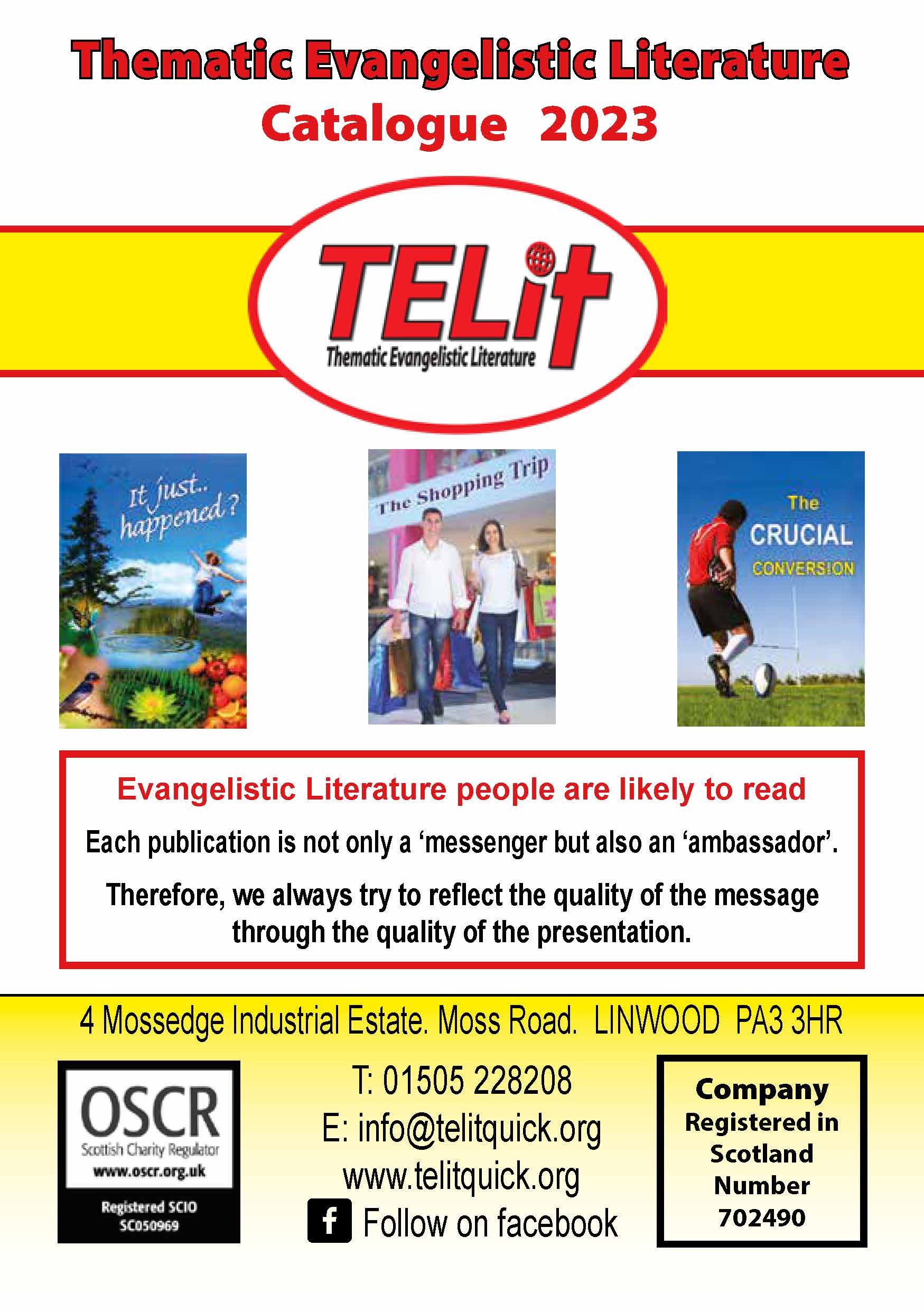 TELit Tips
Topical Issues
We often hear that we must make the gospel more relevant to today's society. But it is already relevant, intensely relevant. Our challenge is to demonstrate that it is for individuals now and not just for those of yesteryear. Using current issues and events as a 'platform' for the gospel helps us with this. TELit offers a number of such titles: 'Your Number's Up!' (National Lottery) 'Saving the World' (environmental issues) 'The Saving Plan' (finance) and 'The Purpose of your Life'