"Our goal is to provide an attractive and engaging format in which to set a clear and uncompromising gospel presentation"
Barry Sprott (Founder)
Evangelistic literature that people are likely to read.
TELit@OPAL design, produce and publish evangelistic leaflets in a wide range of titles, suitable for all ages, interests and occasions.
Featured folders
Please click on the folder to order and add the quantity you would like.
TELit Now
Welcome to the new TELit Website. We hope you find it easier to find your way around it. Did you notice that clicking on a cover picture allows you order or download a readable version of the contents of a folder. Do take time to read through it, and let us know what you think.
Would you add a link to the website to your churches website?
Download our latest catalogue by clicking on the image below: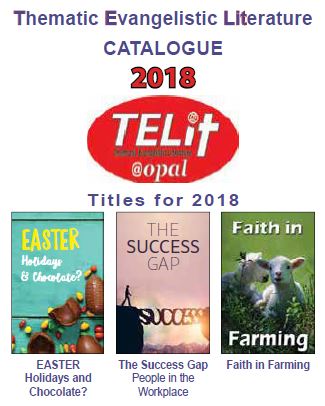 Or select from one of our folder themes below:
Telit Tips
Local Community Events
Why not make use of the opportunities at special local community events such as flower shows. We have 'Saying it with Flowers', 'Finding your way through the Agricultural Show' and even a children's version 'Josh & Jade at the Agricultural Show'. Do you have a stand organised for your local show? Could you distribute some folders there?